A precision genetic medicine company focused on neuromuscular and cardiac diseases
Solid Biosciences is a life science company focused on advancing a portfolio of neuromuscular and cardiac programs, including SGT-003, a differentiated gene therapy candidate for the treatment of Duchenne, AVB-401, a gene therapy program for the treatment of BAG3 mediated dilated cardiomyopathy, AVB-202-TT, a gene therapy program for the treatment of Friedreich's Ataxia, and additional assets for the treatment of fatal cardiac diseases. Solid aims to be the center of excellence across a given disease spectrum bringing together those with expertise in science, technology, disease management, and care. Patient-focused and founded by those directly impacted, Solid's mandate is to improve the daily lives of patients living with these devastating diseases.
Stock Information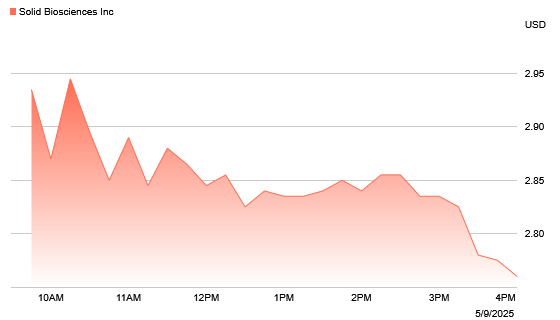 Data Provided by Refinitiv. Minimum 15 minutes delayed.