Solid Biosciences Appoints Kevin Tan, CFA, as Chief Financial Officer
January 9, 2023 at 8:01 AM EST
CHARLESTOWN, Mass., Jan. 09, 2023 (GLOBE NEWSWIRE) -- Solid Biosciences Inc. (Nasdaq: SLDB), a life sciences company developing genetic medicines for neuromuscular and cardiac diseases, today announced the appointment of Kevin Tan, CFA, a seasoned industry professional, as Chief Financial Officer.

"We are pleased to welcome Kevin at this important juncture in the company's evolution," said Bo Cumbo, President and Chief Executive Officer of Solid Biosciences. "Having previously worked with Kevin, I am confident his leadership, execution focus, and financial acumen will support the company's advancement towards key business objectives. Kevin has a deep understanding of capital markets and the biopharmaceutical industry, which will be instrumental as we advance our pipeline. Kevin's prior experience in gene therapy will be of significant value as he works alongside myself and our Chief Administrative Officer, Ty Howton, to establish partnerships with the potential to accelerate our current product candidates and expand our next generation of genetic therapies for neuromuscular and cardiac disease."
"I am excited to join Bo, Ty and the rest of the experienced and dedicated management team at Solid Biosciences," said Mr. Tan. "The company's balance sheet positions us well to execute on value driving inflection points in the coming years. With a growing pipeline and significant expertise in developing and manufacturing novel genetic medicines, Solid has substantial long-term potential. I look forward to helping the company realize the full value of its platform to bring meaningful treatments to patients in need."
Mr. Tan brings more than 20 years of financial experience to Solid, most recently as CFO at Selecta Biosciences. In this role, Mr. Tan was responsible for all financial functions, business development activities and investor relations. While there, he worked closely with the leadership team to determine and execute the overall corporate strategy. Prior to joining Selecta, Mr. Tan served as Treasurer at Sarepta Therapeutics where he was responsible for the liquidity and capital management of the company. At Sarepta, he led numerous financings across equity and debt markets and was a key member of the Business Development team. Prior to his time at Sarepta, Mr. Tan had an extensive career in financial services, most recently as Senior Portfolio Manager at CPP Investments where he managed billions in capital across the public markets.
Mr. Tan holds a Bachelor of Commerce from Queen's University at Kingston, a Master of Engineering in Operations Research & Financial Engineering from Princeton University and a Masters of Business Administration from The University of Chicago Booth School of Business. Mr. Tan is a Chartered Financial Analyst.
About Solid Biosciences
Solid Biosciences is a life science company focused on advancing a portfolio of neuromuscular and cardiac programs, including SGT-003, a differentiated gene transfer candidate, for the treatment of Duchenne, AVB-202, a gene transfer candidate for the treatment of Friedreich's Ataxia, AVB-401 for BAG3 mediated dilated cardiomyopathy, and additional assets for the treatment of undisclosed cardiac diseases. Solid aims to be the center of excellence, bringing together those with expertise in science, technology, disease management and care. Patient-focused and founded by those directly impacted by Duchenne, Solid's mandate is to improve the daily lives of patients living with these devastating diseases. For more information, please visit www.solidbio.com.
Forward-Looking Statements
This press release contains "forward-looking statements" within the meaning of the Private Securities Litigation Reform Act of 1995, including statements regarding future expectations, plans and prospects for the company; the anticipated milestones, business focus and pipeline of the company; the balance sheet and cash runway of the company; and other statements containing the words "anticipate," "believe," "continue," "could," "estimate," "expect," "intend," "may," "plan," "potential," "predict," "project," "should," "target," "would," "working" and similar expressions. Any forward-looking statements are based on management's current expectations of future events and are subject to a number of risks and uncertainties that could cause actual results to differ materially and adversely from those set forth in, or implied by, such forward-looking statements. These risks and uncertainties include, but are not limited to, risks associated with the ability to recognize the anticipated benefits of Solid's acquisition of AavantiBio; the outcome of any legal proceedings that may be instituted against Solid or AavantiBio following the announcement of the acquisition and related transactions; the ability to obtain or maintain the listing of the common stock of the combined company on the Nasdaq Stock Market following the acquisition; the company's ability to advance its SGT-003, AVB-202, AVB-401 and other programs on the timelines expected or at all; obtain and maintain necessary approvals from the FDA and other regulatory authorities; obtain and maintain the necessary approvals from investigational review boards at clinical trial sites and independent data safety monitoring board; replicate in clinical trials positive results found in preclinical studies and early-stage clinical trials of its product candidates; whether the methodologies, assumptions and applications the company utilizes to assess particular safety or efficacy parameters will yield meaningful statistical results; advance the development of its product candidates under the timelines it anticipates in current and future clinical trials; successfully transition, optimize and scale its manufacturing process; obtain, maintain or protect intellectual property rights related to its product candidates; compete successfully with other companies that are seeking to develop Duchenne and Friedreich's ataxia treatments and gene therapies; manage expenses; and raise the substantial additional capital needed, on the timeline necessary, to continue development of SGT-003, AVB-202, AVB-401 and other product candidates, achieve its other business objectives and continue as a going concern. For a discussion of other risks and uncertainties, and other important factors, any of which could cause the company's actual results to differ from those contained in the forward-looking statements, see the "Risk Factors" section, as well as discussions of potential risks, uncertainties and other important factors, in the company's most recent filings with the Securities and Exchange Commission. In addition, the forward-looking statements included in this press release represent the company's views as of the date hereof and should not be relied upon as representing the company's views as of any date subsequent to the date hereof. The company anticipates that subsequent events and developments will cause the company's views to change. However, while the company may elect to update these forward-looking statements at some point in the future, the company specifically disclaims any obligation to do so.
Investor Contact:
David Carey
FINN Partners
212-867-1768
David.Carey@finnpartners.com
Media Contact:
Erich Sandoval
FINN Partners
917-497-2867
Erich.Sandoval@finnpartners.com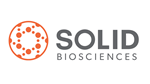 Source: Solid Biosciences Inc.